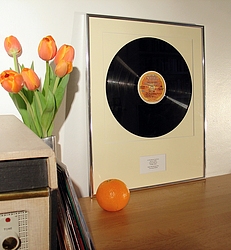 I've been collecting vinyl records since the age of nine, and spent much of my childhood in the record shops of Brighton and Sussex browsing for albums and singles by exotic-sounding bands and singers I had only read about or seen on Top of the Pops.
Much later in life, some friends and I were chatting and joking about the songs that were Number One on the days we were born: some were cool singles by the Beatles or T. Rex while others of us were born to less memorable songs by the likes of Ken Dodd or the Bay City Rollers. Such was pop music back in the day.
That was when the idea of framing records as birthday gifts came to us. We left careers with multinational businesses in sales, retailing and customer services behind us and the Old Record Shop was born in 2004.
We've gone a lot further than framing Birthday Number Ones since we started: framed "First Dance" songs for wedding gifts and "special songs" for anniversaries and Valentine's Day keep us very busy too. And since many modern songs are only released as downloads or on streaming services nowadays, we can now frame the official sheet music for almost any song which we source from the music publishers. This has proved to be almost as popular as framing vinyl records.
It's much easier to collect and buy old vinyl singles, albums and CDs than when we were kids in the 1970s and doing so for a living feels like the best job a music fan can have, especially when the songs that we frame for our customers and their friends or partners carry so much meaning in their lives: the personalised messages that we mount beneath each record are often very touching.
Perhaps this is why we are just as fussy about finding an original copy of a record in excellent condition as we would be when buying for ourselves. We wish we could deliver overnight but each record is sourced individually and from a wide range of small suppliers so it does take a little while to obtain them sometimes. But birthdays, weddings and anniversaries are our bread and butter and when we know we have to deliver by a certain date we will try and perform miracles to do so if we have to!