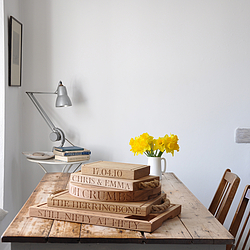 The Oak and Rope Company specialises in oak gifts that are designed, handmade and engraved in our Kent workshop.
The company is run by two friends, Caroline and Jeanette.
The starting point is the natural beauty of the oak; with some simple designs a piece of oak is given a function and finished off with an engraving of your choice.
The results are the most amazing presents: 'Exactly what you always wanted, but not like anything you have seen before', and 'As soon as you see it you know it will be around forever'. People buy them for themselves as often as they buy them as gifts.
They are perfect for wedding presents, anniversaries, house warming presents or for your own home. The engravings tend to be house names or addresses, couple's names and wedding dates, other important dates, childrens names, initials or a saying. The engraving is included in the price.