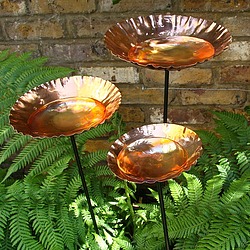 The London Garden Trading Co was created by Landscape designers Simon and Sarah Thomas.
After exhibiting a Show Garden at the 2006 Chelsea Flower Show, we were flooded with requests for the glass sculptures displayed in it . Spurred on by this, we designed a range of colourful glass sculpture made by a local glass blower and London Garden Trading was born!
We still sell our handmade sculpture at Chelsea Flower Show as well as online and continue to expand our range of eclectic and exciting products which are sourced from our travels around the world and larger suppliers.
Our aim is to bring affordable, cool and quirky objects into your home as well as even the tiniest garden. Each of our copper sculptures are handmade and unique to us.
Our range includes copper tulips, lilies and roses, glass lightbulb vases, copper chalice birdbaths as well as elegant oil burning garden lamps in burnished Copper and Steel.
Our latest range of mini world terrariums was TV advertised by Not On The High Street in 2014 and have grown to be one of our bestsellers.
We love hearing from our customers so please let us know if you have any queries or just want to know a little more about anything we are selling, we would be very pleased to help!