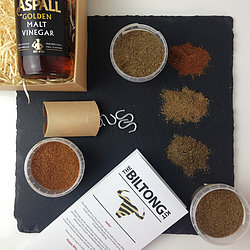 How The Little Kit Company came to be:
I bought a wine making kit as a gift a few years back. The kit, which I sourced from various den-like home brew shops, was sitting on my kitchen table ready to be wrapped. It was bulky, ugly and generally uninspiring, and was not the creative thoughtful gift I had envisaged giving! An idea seeded itself in my mind, what if there was a wine kit like that!
These kits allow you to make small quantities of wine and now Biltong! They look good in your kitchen and not so, well.. scientific and give you the option to make batches simply a easily. Over the course of about a year I talked to people about my idea, and eventually realised I was not alone, other people were interested in making their own gourmet products in this way. And The Little Kit Company was born!
Now, some years, babies and other small triumphs down the road, I am proud to say I have fulfilled many other specifications that are important to me including:
Locally sourced packaging and parts
Proud to be made in Great Britain
Ethical trading
And listening to what customers want