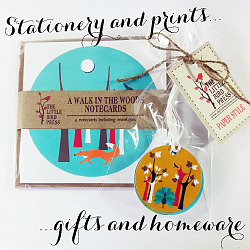 For as long as I can remember I've loved stationery. Other little girls played with dolls and Lego, I made cards and notebooks and spent all of my pocket money on stationery. Even my school age Saturday job was in my home town stationers! The Little Bird Press is the outlet for my passion.
I love the ability that my cards or gifts have to make people smile, and as I learn more about the stationer's craft and add new techniques and homewares and textiles to my range of products, I find myself becoming more and more excited about the business and it's potential.
I don't mind being a stationery geek, in fact it's a badge that I wear with pride! I love the range that I produce, and I'm always having ideas for new products.
The Little Bird Press currently sells a range of notecards and gift tags, notebooks and writing sets, personalised prints and mugs. Over the coming months I am hoping to be able to add more products to my portfolio including cushions, tea towels and lampshades.