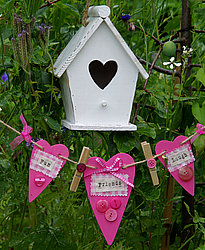 The Little Birdhouse was set up because, having three daughters we know children love to be creative but sometimes as busy parents, finding all the things you need to complete a worthwhile craft project can be time consuming and frustrating. So we decided to create some kits which were packed with everything you needed to let that creativity out and once completed, would be something they could be proud to keep or give away.
And so the Little Birdhouse began with ideas and inspiriation from our girls. Our hope is that the kits will bring the satisfaction and fun of some good, old-fashioned 'gluing, sticking and making' time into your childrens lives too.
The kits have clear, uncomplicated instruction and are not too fiddly or time-consuming. We design our kits so that the end product is just as satisfying as the making of it.
We aim to be environmentally friendly and locally sourced wherever possible and keep our packaging to a minimum.
5% of the profit from the sale of every kit goes to an amazing charity which funds scholarships for orphan children in Uganda.