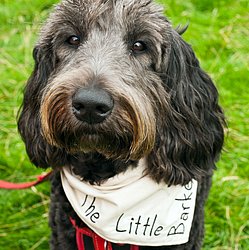 Here at The Little Barker Bakery we have a passion for making treats for V.I.P's (Very Important Paws). Our biscuit treats are hand made, freshly home baked and delivered to your door to delight both dog and owner. We source our high quality human grade ingredients with care choosing local, organic and wholefood supplies wherever possible.
At The Little Barker we do not use additives or preservatives and whilst our delicious biscuits are a complementary treat for dogs we like to include ingredients that have known functional health benefits, because treats should be more than just a reward.
We offer a variety of flavours and treats that are completely wheat, gluten and dairy free, we list all of the ingredients used in our biscuits.
Why not be part of The Great British Bark Off and bake a cake or treats in your own home from our 'Bark Me' range, these are fun to do and use the same great ingredients as our bakery.
A small selection of hand picked gifts are also available for dogs and cats.
We are a registered pet food bakery under EU Feed Hygiene Regulation 183/2005 registered number GB208RO1319
Not all animals are as fortunate as Darcey (Chief Taster) and Chica (Trainee Taster) a Spanish Podenca rescue who joined the team from perrera to pawtisserie so for this reason we are totally committed to supporting animals in need. We do this by giving a percentage of all sales directly to local, national and even international animal charities.