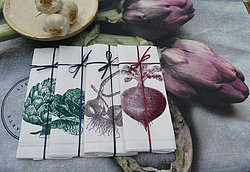 The Linen Peddler meddles and peddles in vintage and not so vintage fine linens and cottons. Old suitcases carry a cornucopia of bespoke treasures.
Start rummaging and you will find artisan table runners and napkins, decorated with hand printed images of 'Fruits de la Mer ' inspired by warm summer afternoons in the south of France sipping crisp chilled white wine whilst eating lobsters, crabs and prawns from ice covered platters. Heaven! Delve a little deeper to unearth wonderful seductive coloured vegetable table napkins, including designs such as delicious Beetroots, Peppers, Artichokes and Aspsragus. Great for a special occasion or for everyday meal gatherings.
For your tea party once in a while there are delicate vintage doilies printed with Alice in Wonderland inspired teacups, cakes and crowns, to name but a few items.
For the kitchen The Linen Peddler has produced a range of Linen Tea Towels inspired by utensils and objects found on the laden shelves of the "Traditional General Store" harping back to bygone days.
Hording comes naturally to the Linen Peddler and the eclectic mix of objects, junk and jumble acquired over time is the main influence for her many collections.
Jane Howarth was Senior Lecturer and Head of Fashion/Textiles on the Foundation course at the University for the Creative Arts, Maidstone from 1994 untill 2014. She is currently an associate lecturer at UAL, teaching drawing classes on the BA (Hons) Fashion Illustration course.
She has a BA Hons in Fashion/Textiles and a Postgraduate in printed textiles.
She has been producing her own diverse work for many years and has featured in articles, magazines and books such as Casa Vogue, Living Etc, Noi-se, Metro, Shop eat drink London, to name a few. Recent exhibitions of her sculptural art pieces include The Saatchi gallery 'Burning Bright ' exhibition at The Hyatt Churchill, London. Her work is for sale in various select boutiques in London.