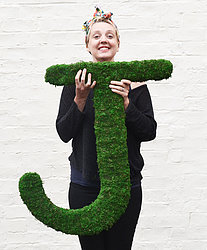 We are The Letter Loft, a Father and Daughter team (with the help of a hubby and a beagle puppy, Digby) working from a Cotswold's workshop (Jodie) and a Spanish bedouin (Dad).
The inspiration for the business came when Jodie got married in 2012 and she wanted some moss covered alphabet letters for her top table. She couldn't find them anywhere so decided to create her own.
"I had always wanted to work for myself and this accidental love of moss was the start of a business idea and I launched in 2013 as The Moss Letter Company. As we have grown and improved our skills we have extended the range to lots of other materials and naturally evolved into The Letter Loft. Our wire freestanding letters are fast becoming a favourite!"
Our range consists of mainly décor – either for your home or event and we pride ourselves on quality workmanship with a unique look at the alphabet. If you are looking to personalise your home with a stylish on-trend copper letter 'A' or to adorn your wedding cake with a beautiful 1920's topper then this is the place for you.
You are most welcome at The letter Loft – please have a good look around, we think you have spectacular taste :)