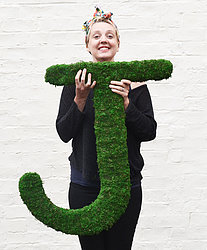 Welcome to The Letter Loft, a Father and Daughter team designing and making from their Gloucestershire workshop.
Together they are all about creating industrially stylish, out of the ordinary, alphabet letters and word items.
The inspiration for the business came when Jodie got married in 2012 and she wanted some moss covered alphabet letters for her top table. She couldn't find them anywhere so decided to create her own mossy 'Mr & Mrs'.
"This accidental love of moss was the start of a business idea and I launched in 2013 as The Moss Letter Company. Soon after, my Dad came on board and as a skilled wire writer we evolved to The Letter Loft, adding in our best selling wire letters, luxury cake toppers, secret message mugs and much more. We want to help that lost Bride find their 'moss letters'."
Our range consists of mainly décor – either for your home or event and we pride ourselves on quality workmanship. Every weld, bend and stitch is made by us and it gives us great pleasure to send these to you.
If you are looking to personalise your home with an on-trend copper 'A' or to finish off your wedding cake with a 'wow' topper, then you have stumbled upon your people. We are here for you!