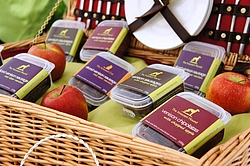 The Innocent Hound is a range of luxury treats for dogs with a taste for the finer things in life. Made with 80% British venison these semi-moist, air dried sausages are sure to get tails wagging with their unique flavours and sophisticated charm.
Our venison and chopped apple chipolatas look and smell like they have come from the finest charcuterie. Oozing with splendour as you draw a succulent chain of linked sausages from their handy tubs, it's difficult to remember that they're not for you.
The exquisite range also includes larger sausages for larger breeds, and ready sliced sausages which are ideal for training.
Inspired by today's values in buying food for ourselves, The Innocent Hound's luxury treats are made by using sustainably sourced, high quality British venison where animal welfare is a priority. Made in Britain, the sausages are hypoallergenic making them suitable for sensitive tummies.
Show your dog the real meaning of a treat!
All orders are beautifully presented - wrapped in tissue paper with eco-friendly packaging. They make the perfect gift for dog-lovers!
(Registration No GB249E3602)