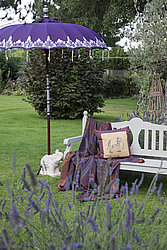 On her own passage to India in 2006 designer Bernadette O' Farrell was so inspired by the vibrancy and exquisite tradition of Indian handicrafts that she started the Indian Garden Company.
Working closely with highly skilled craftsmen and using only local materials the Indian Garden Company have created a range of exciting products to create an exotic splash in your garden or home.
We have chosen our products through travel and research in native crafts and adapt traditional designs to Western climes and tastes. This results in a colourful eastern paradise in your garden or home. Each handcrafted product is unique. We hope you enjoy them as much as we do and appreciate the history, skills and fascinating stores behind each piece.