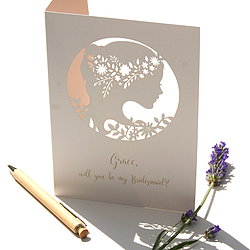 You dream, we create...
We're a small, friendly creative company who have a passion for all things paperie!
Be inspired and join us in our world of paper and designs created to tell a story, spark the imagination and delight the receiver. We make what we love, we create convertible cards and stationery for those who desire something a little differnt.
In a world of 'sameness' we endeavour to source, seek and design what we believe is a truly desirable collection of stationery, featuring whimsical, vintage and unique designs. We make luxury wedding stationery, cards and gifts, quirky stationery, gift wrap, decorations and greetings cards for all the special events in your life, especially weddings and anniversaries.
We're inspired by the latest emerging trends and innovations, simplicity and uniqueness of the everyday and what we love. Our collection offers quality with a difference, we don't just print, we laser cut, foil and hand finish everything.
Laser cutting is stunning and creates the most amazing and beautiful effect, where the artwork burnt away from the card.
Each of Hummingbird Cards designs is lovingly hand drawn and illustrated to give our printing something a little different.
We offer to handwrite personal messages in cards for free. Some products can be personalised with printed names or messages.
A gift wrapping service is also available for our gift items such as wooden artworks, photograph albums, bride and guest books.