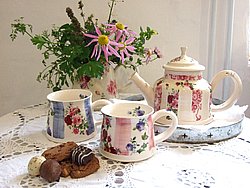 The Handmade Mug Company produces hand thrown, individually decorated tableware, aiming to help solve those difficult gift problems, offering the perfect present for parents, children, grandparents and that special person in your life.
Each piece is lovingly hand thrown and hand decorated by Lisa Smith in her workshop in Leicestershire, and as with the nature of handmade items every one will have it's own character with no two identical.
It's so important to have beautiful things around you, and so much better if you can actually use them! These mugs have been made with that in mind.
Attention to detail has not only been given to the visual aspect but also to the shape, the wide bottom gives stability, hands can cradle the mug, two fingers fit through the handle and the out turned lip means your mouth will fit comfortably onto it, making drinking from these hand made mugs a pleasure.
A combination of hand painting and old English chintz designs are used to create a beautifully eclectic feel, mixing traditional and contemporary, with the option to add names and dates making it so much more personal.
All mugs are dishwasher proof.