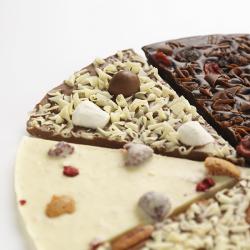 Welcome to The Gourmet Chocolate Pizza Co.
We are a small company in Nottingham who have developed a new range in chocolate, something that everyone and every age can enjoy, something that would be exciting, make a great gift or a special treat for yourself and friends, we would like to offer you our chocolate pizzas !
Each pizza is solid Belgian chocolate with a variety of delicious toppings, these range from marshmallows and Smarties to pecan nuts, raisins and cranberries. There are three sizes so you can send a little one to your lovely Grannie and a large one to favourite family friends. They come already cut into slices, and of course are presented in an authentic pizza box.
We hope you enjoy!