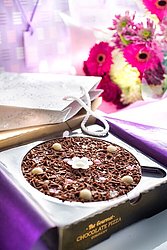 Welcome to The Gourmet Chocolate Pizza Co.
We are a small family company in Nottingham who have developed a unique range of chocolate gifts. Something that everyone and every age can enjoy, something that is exciting, makes a great gift or a special treat for yourself and friends, we would like to offer you our chocolate pizzas !
Each pizza is solid Belgian chocolate with a variety of delicious premium toppings, these range from marshmallows and rainbow drops to hazel nuts, raisins and cranberries. There are three sizes so you can send a little one to your lovely Grannie and a large one to favourite family friends. They come already cut into slices, and of course are presented in an authentic pizza box.
We are based in Cotgrave South Nottingham and have a great team of staff from the village, supporting local schools with tours and sampling for the little ones and raffle prizes for Summer fetes, being part of the local community is important to us. We hope you enjoy our range !