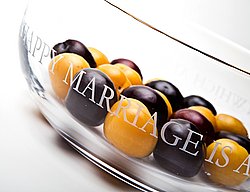 I first discovered these beautiful engraved personalised glass gifts way back in 2008 and started to sell them in my shop along with my other personalised keepsakes. Back then I didn't actually make them, I was in awe of Catherine who did and how amazing they were, and my customers loved them too! Then in 2014 Catherine was selling her business and I agreed to take it over. After months of careful training I took over the reins in 2015 and spent the next year perfecting the art of engraving using a sand carving technique.
I no longer have a high street shop but work from a studio surrounded by fishing lakes and the beautiful countryside on the Hampshire/Berkshire border. With my small team we continue to create personalised glass gifts using hand-written words, signatures, children's drawings and poems. We use the best handmade glass and support UK makers where ever possible and as a bespoke business we pride ourselves on taking the time to get your gift just right.
There is something immensely special about creating a unique and special gift from scratch and it's something we love to do. So if you can't see exactly what you're looking for, please contact us to see how we can help!