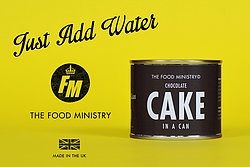 Greetings from Cake in a Can at The Food Ministry ©.
Time to show just how much you love your partner by sending them a uniquely, delicious Cake in a Can.
Cake in a Can is a fun and totally unique gift, just like your loved one!
It's a stylishly designed gift containing all the tasty ingredients to bake a delicious Cake in a Can. Just Add Water.
Make it, Bake it, Eat it!
Chose from our wonderfully, tasty and colourful range of Cake in a Cans to celebrate any special occassion, or simply to let someone know you're thinking of them.
-----------------------------------------------------------------------------------------------------------------------------------