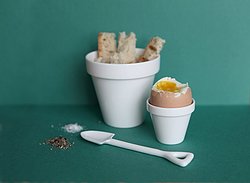 LAHLA studio is a collection of info-graphics and home-wares designed by Lahla Smart.
Everything she designs has a focus on food, whether it's growing it, serving it up beautifully for friends for just taking delight in it – and how great it tastes!
From stationary to kitchenware, each product will inspire you to cook creatively and help you eat well. Her range includes tea towels, page markers, posters and ceramics all made in the UK.
LAHLA studio products are here to inspire you in the kitchen but we also want to promote resourceful cooking. 'If you love food, don't waste it.'
All products are designed by ©Lahla Smart