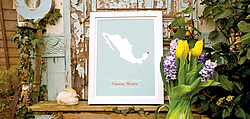 We are two designers, Jasmine and Baz, who feel passionately about creating high concept bespoke prints. For us it's the extra special touches that count. Showing the buyer that we care about quality and service.
We started this business 4 years ago with the idea to design a range that played on iconic everyday images by giving them a clever twist with a personalised bespoke option. Each piece has been greatly considered and developed with only the highest quality materials measured for use.
All of our artpieces, posters and screenprints are designed and created in our little studio in Kent.
We are constantly bursting with new designs to add to our collection, so keep a look out for our new products, which will be added continually!