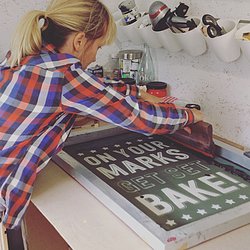 We are The Design Conspiracy. We create unusual and individual printed goods that will hopefully bring smiles to faces all the year round.
Whether it be a greeting card, something to hang on the wall or door, or even something to place your drink on, we've got something for everyone with lots of personalised options.
All of our designs are created in-house and then printed lovingly either by hand on our vintage letterpresses, hand pulled through screens with juicy ink and a squegee or digitally printed on our high quality inkjet.
We always use the best quality papers and customer service is our main priority.