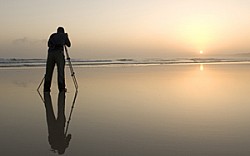 Every day since mid-summer's day 2005, we have taken stunning landscape photographs of the dawn rising. That means you can own or a give a photograph showing how the world looked on a date special to you or a loved one.
All our photographs are personalised with a hand inscribed message, e.g. Ella's First Day - May 11th 2009, Tom and Lucy's Wedding Day - May 8th 2009, The Day That We Fell In Love - September 15th 2007.
Whilst our images make truly unique birth, christening or wedding gifts, they can commemorate any special occasion: special birthdays, anniversaries or personal achievements. Our images really are a lasting reminder of a very special day and will be kept for generations to come.
We offer a choice of size and frames. We also offer gift vouchers, which allow for the recipient to choose their own image.
So, how does it work? When you wish to order one of our images, contact us using the 'ask seller a question' button with your special date. We will respond with a link which shows the images from your special date to choose from. You can then return to the product page to place your order.