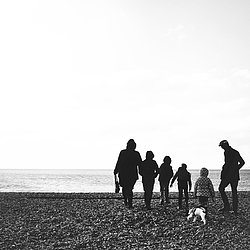 From their converted boat shed on Hayling Island in Hampshire (a real Island accessed by a road bridge) The Contemporary Home team work tirelessly on their trend and lifestyle led ever changing range of home accessories and gifts.
Started in 2005 , you will be forgiven for expecting a range of sleek stark products; what you will find is in fact the opposite. The Contemporary Home's founder Clare Satchwell passionately believes a Contemporary Home is one that reflects the owners loves, lifestyle and story. Driven by the determination and belief that a beautiful home does not need to be a carbon copy of a page from a brochure of filled with easy to find recognisable pieces from department stores, The Contemporary Home's vision has never been stronger.
Whether you are looking for that certain something that has to suit a space perfectly or you are looking for a gift to be treasured, their range will inspire. It could be a simple wooden boat for your window sil that with every glance transports you back to heady days on holiday or a perfect trinket box in your best friends favourite colour (for their earings they always lose) . Their range is eclectic, unusual (which is particularly brilliant when you do not know what you are looking for until you see it). Every piece is designed or chosen with great care and attention to detail, but that is not where it ends. Expect to receive your package nestled in bright tissue like found treasure.