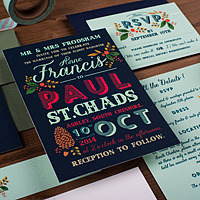 The Charming Press is a small design studio based in a little Cheshire village.
Founded in 2014, the studio specialises in charmingly illustrated wedding stationery and soon we hope to expand into other stationery & prints. We pride ourselves on being a little bit different from traditional wedding stationery, you will definitely never see any pearlescent card or diamantes here!
We love paper, pattern and print, and how the simple things like how the right font or colour combination can transform a design. We realised that wedding stationery combined most of our favourite things: typography, illustration, print techniques and helping other couples have something a little bit different for their wedding.