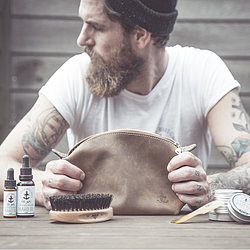 Established, designed and manufactured in the seaside town of Brighton, our brand encapsulates the style and spirit of the bearded lifestyle.
The Brighton Beard Company was founded in 2013 by couple Lloyd and Jessica, who wanted to create a distinctive beard-care range that championed both style and nourishment for the urban beardsman.
Inspired by our surroundings of the scenic South Coast of England, we looked to the beards of the sea as our muse. And so, each our products is named after local and lawless smugglers, moonshiners and best loved villains from around the East Sussex area. Each with their own anecdote based on true stories, mostly consisting of a whole lot of mischief and misfortune, we like to imagine these sea scoundrels to have wild, gnarly beards.
From Creampot Tom to Jevington Jigg, each product is handmade in small batches with 100% natural ingredients, carefully chosen for their beard benefits and their impeccable fragrance.
By creating quality, hand-crafted products with all natural ingredients, The Brighton Beard Company provides beard care to nurture your facial fur, making your beard the best it can be.