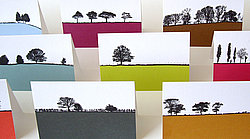 Established in 2007 by Jacky Al-Samarraie, The Art Rooms has published an award winning range of designs & products.
Products include greeting cards, bone china mugs, melamine tableware, cushions and notebooks.
The Art Rooms proudly manufactures all products in the UK to support local manufacturers and the environment.
Jacky's graphic style is recognisable across the whole product range, with her signature Landscapes being her most acclaimed series.
The simplicity of the Landscape range and use of bold block colours, makes them unique and immensely popular.
Nature is a strong influence in Jacky's work, as can be seen in her floral work and Landscape series.
She continues this connection with nature through her Letterpress card ranges featuring trees and birds. These are traditionally printed on a Heidelberg platen press on to 100% cotton paper which is produced in the Lake District from cotton waste fibres.