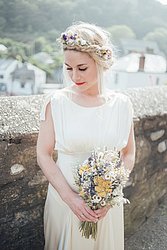 FROM FASHION TO FLOWER FARMERS .......
THE ARTISAN DRIED FLOWER Co. was started back in Jan 2013 as a way of extending our seasons here on our sheep & flower farm in Staffordshire and providing new and original dried flower designs for the wedding market that were not previously available.
Our sheep farm, is also home to our award winning fresh flower company THE TRADITIONAL FLOWER Co. which was started back in 2006 by founder Sam Ellson who previously worked in the fashion industry.
We plant, sow and harvest most of the ingredients that go into our dried flower designs, which means we can create unique wild, rustic, bohemian dried flower collections, all handmade to order in our flower shed by our award winning flower stylists.
Awards include.. RHS Silver Gilt, and Perfect Wedding Magazine Best Wedding Florist 2011 , so they really know and understand wedding flower design.
During the Summer time, our empty livestock sheds and stables are put to good use, drying our flowers and herbs naturally, for that rustic, country look which is our signature style here at THE ARTISAN DRIED FLOWER Co.
Proud member of A©ID: Anti Copying In Design