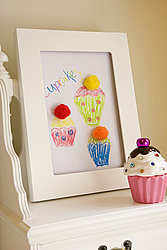 The Articulate Gallery range is a beautifully simple but effective picture frame for displaying children's own artwork.
The Articulate Gallery is a special frame to showcase the creativity of your child in a fun and functional way.
Take their 2D and 3D mini masterpieces and simply slot their work in the open-sided frame to make them feel just like a real artist. No more sticky tape or curly artwork on the fridge door. Hang a selection of frames together and you have your very own gallery exhibition.
These contemporary frames look fabulous in any room of the house and are a great way to show children just how great you think their art is ...
A terrific gift for any child or family.