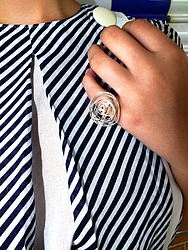 Designed and created by Sara E Swanson, pieces include every day wear, necklaces, bangles, rings, earrings, constructed from traditional materials in a unique way. All materials used are excellent quality.
Sara studied fine art and ceramics, but after finishing her degree decided to expand her 3D skills into metal and jewellery.
The collections are mainly influenced by organic structures particularly those in the costal surroundings of our studio and all pieces are handmade to a very high standard, and the very fact that everything is handmade means you get a completely unique piece each time. Every effort is made to re-create the pieces as per the photos but plese remember that it is all handmade so impossible to perfectly replicate each thing!
I hope you enjoy my pieces and look out for new products soon.