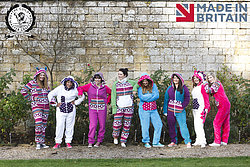 Est. in 2008, The All-in-One Company is the home of the original Create-your-Own Onesie. Ethically British, each Onesie is individually handmade here in Northumberland UK, by a highly skilled team of professionals using traditional cutting and sewing skills that have been passed down through generations. Presenting unquestionable standards and luxury, we specialise in bespoke orders as well as our Ready Made Collection Onesies in our most popular designs and fabrics.
Using high quality, luxurious fabrics, our Collection Onesies come in a range of gorgeous designs. You'll also find a Collection of accessories including personalised blankets, Pet Blankets, Hot Water Bottle Covers and Bootsies.
We maintain a presidential and unquestionable standard throughout the whole of the company and have recently been awarded membership of The Guild of Master Craftsmen.