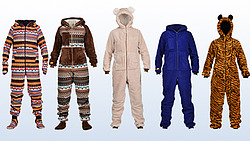 The Original creators of the Create your Own Onesie. Est. 2008. Each and every onesie is handmade by a highly skilled team of professionals in Northumberland UK using high quality fabrics. We specialise in bespoke orders but also have a Collection of ready-made Onesies in our most popular fabrics. Our All-in-One Onesies can be personalised with an embroidered name or logo for that extra special touch providing a luxurious snuggletastic experience for the whole family.
Our pre made Collection Onesies include 'The Max Suit' from 'Where the Wild things Are', 'Fluffy bear cub' onesies for that extra special bear hunt, Scandinavian Snuggles for the wild adventurers and go crazy in love with Love n' Hugs cuddle fleece onesies. We also have plain polar fleece Onesies for Men and a collection of accessories and fleece personalised blankets in a range of sizes.
Handmade with love in Northumberland UK and dispatched worldwide.