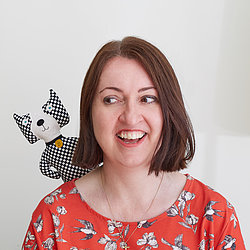 Hello and welcome to my fun world of very silly animal characters.
When I started to design I wanted toys that reminded me of my own childhood so I've made lots of popular culture references from the 70s and 80s – especially my favourite tv shows and music.
I like to use natural, soft and most tactile fabrics I can find, especially for babies. I use bamboo terry-towelling in my face-wipe puppets which is soft on kids' faces and bamboo is very sustainable (a QI fact it grows about 3 cm per hour) so it's great for the planet too. The face-wipes are also puppets for those tricky kids that hate their face washed (don't we all). I also use 100% wool felts that absorb embroidery amazingly and make my hot water bottle covers more cosy to cuddle.
I hope you enjoy my silly world and it appeals to the animal lover in you. Whether it's a gift for a child, a new baby, Christmas or for the big kid in you!