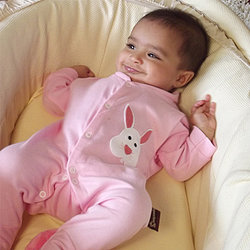 Award-winning Teeny Beanies are cute and fun children's character bean bags, cushions, nursery bags, wheat & lavender hotties, soft toys, personalised bunting, personalised sleepsuits, blankets and baby hampers. Suitable for babies and children 3 years of age and older, so great for big kids too! They are designed and handmade in the UK in Telford, Shropshire.
Made from 100% woven cotton with a plush suedette finish which is machine washable. All materials are UK sourced.
There are lots of funny characters looking for loving homes. Bradley Bear, Woolly the Sheep, Horace Horse, Peggy Pig, Digby Dog, Henry Hippo, Dizzy Dinosaur, Florence Fairy, Bumble Beanie, Dotty Ladybird, Melvin Monkey, Bernie Bunny, Claude the Cat & Edmund Elephant, Bessie & Bertie Bunny.
The character bean bags, cushions and nursery bags have the option of being personalised.
The baby name bunting is made to order and available in various colours. Bunting makes a unique gift for any child - great for Christening or New Baby gifts.
The baby bunny range includes a Luxury Baby Hamper, Taggy Comforter, Baby Blanket & Sleepsuit all with personalisation options.
All Handmade in the UK by Teeny Beanies