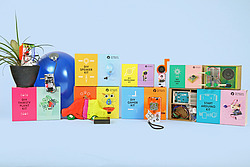 Technology Will Save Us design devices that you make yourself. Our DIY kits and resources are the best way to learn skills, make cool gadgets and begin your journey as a tech maker. All of our kits are vehicles for education that encourage people to make, play, learn and invent with technology. They are designed around everyday life themes such as gardening, music, gaming, play and energy. Our kits are easy to make and great for all ages to learn basic skills around technology, whilst making fun and useful products in their everyday lives.
We are on a mission to help anyone become a maker of technology. We think this happens not with one kind of skill but with multiple skills related to technology and design. We believe the foundations of a maker are rooted in an ability to be resourceful, finding real needs to solve and having some basic technological knowledge. All of our kits are focused on helping people to become makers.
Soldering, electronics, programming and design - these are the skills we think are at the heart of being able to make and create with technology. We use real components and electronics in all of our kits as we want to invite people to go under the hood of their devices and understand them better or even create new ones!
Our complete offer of kits and resources are a journey for our participants that brings them closer to technology through making and doing. We feel understanding and inspiration comes from hands-on experiences where people can unlock the magic of technology for themselves.