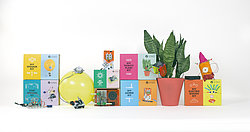 Designer and Mom Bethany Koby wanted to help her young son understand the world around him and not just passively consume technology. On a mission to inspire anyone, from kids to adults, to become a maker with technology Bethany created Technology Will Save Us.
Tech Will Save Us DIY Kits are designed around everyday themes such as gardening, music, gaming and play to bring to life the fun that making with technology brings. We also help guide newcomers to the world of making with our detailed and easy to use guides.
Welcome to a world of soldering, electronics, design and coding!