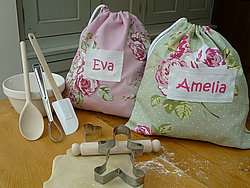 The first TattyBogle Sets originated from a desire to keep things organised, with everyting in its place.
I have a background in textile design and interiors and a love of choosing pretty fabrics and combining fabrics and thread. This has inspired me to create a small range of unique personalised hand sewn gifts and keepsakes for children and adults alike.
Each item is hand made to order using simple designs and pretty cotton fabrics.
My baking sets, make the perfect gift for a child. They are fun and practical too! Filled with carefully sourced, good quality miniature utensils from the Tala range of kitchen products. My sets are designed to encourage your little one to get creative and join you in the kitchen. They are personalised so that they can keep all of their bits and pieces together in one place. ready to use time after time.