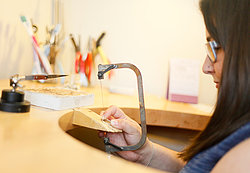 Tanya Garfield Jewellery is a contemporary jewellery brand, made by Tanya Garfield in her studio on the Essex coast.
After years of trawling through her grandma's jewellery box, Tanya graduated from Middlesex University in 2012 with an Upper Second Class Honors Degree in Jewellery and Accessories.
Tanya's graduate collection was inspired by wartime communication and her work used Morse code to isolate messages. Morse code can still be seen in some of Tanya's later pieces.
Tanya's first collection, 'Daisy' is inspired by the saying 'He Loves Me, He Loves Me Not', which was also a piece from her graduate collection. 'Daisy' uses sterling silver daisy petals and daisy heads to create unique items of jewellery.
A love for nature and colour has lead Tanya to use precious and semi precious stones in her work, allowing her jewellery to bring sunshine into your wardrobe whatever the weather.
Tanya's second collection 'Love' begun when Tanya was playing with some spare silver on her bench. Her love for colour and personalised unique jewellery led Tanya to develop the collection to include birthstones.
Tanya also works to commission and is very happy to make personalised pieces using your own personal sayings to create and make a beautiful one off piece of jewellery.