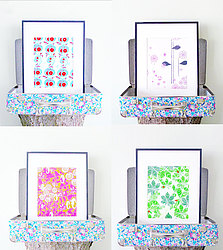 As featured on Kirstie's Vintage Home, Channel 4.
Tania studied at Central St Martins and Chelsea College of Design. She has been awarded a number of design prizes for her work including the prestigious D&AD and a short film award from the Victoria and Albert Museum.
Tania is a London based designer who specialises in screen-printing. The ethos of her work is to create products that are beautifully made, handcrafted and most importantly unique. Each product uses traditional hand crafted methods to create products that are timeless and pieces of art for the home.
The inspiration behind the prints stems from her travels, visiting exotic climes such as Mexico and India to name a few or hearing stories of her parents adventures in Africa. These parts of her heritage influences her design to create scenes from nature which depicts the use of colour, pattern and character in each one of her prints and illustrations.