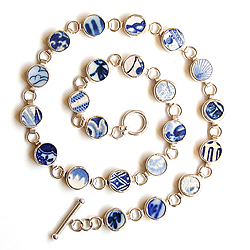 My work uses found objects such as pottery shards from the banks of the Thames in London, and sea glass from the North East coast of the UK.
I love the history attached to the objects I find, and I love giving them new life as pieces of jewellery.
Colour and pattern inspire me, and I play around with my finds until a combination happens that needs to be captured.
I work from my Somerset studio using traditional metalworking techniques, and all pieces are made by me, and are one of a kind.
Thank you for stopping by my shop!