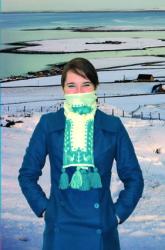 Tait & Style's Studio workshop is now located in the heart of Kirkwall, Orkney's ancient capital, opposite the St. Magnus Cathederal. From here we design and make scarves, hats, and beasties that sail off to exotic locations all around the world: Paris, Tokyo, London…
There is a strong tradition of hand and machine knitting here in Orkney, and I also work closely with Shetland knitters – Fair Isle is just to the north of here, and Shetland comes next (then the North Pole!) But through my travels to various parts of the world I also stay in touch with current trends in fashion, and with the rich knitting and textile traditions to be found everywhere from Norway to Nara to New Mexico.
We use a wide range of techniques: hand and machine knitting, crochet, felting, fabric-fusion, embroidery… And we produce a wide range of designs, from rich, comforting, textural woollies, to quirky graphic designs – both elegant and humorous.
I grew up in Orkney, and after studying in Glasgow, Middlesex and at the Royal College of Art, I knew I wanted to come back here. It's a special place, and it attracts special people: it is constantly stimulating to work with old traditionalists from the islands, and young revolutionaries on college placements! Everyone seems to click into the Tait & Style vision really well: to be bold, funky and above all fun.
Ingrid Tait