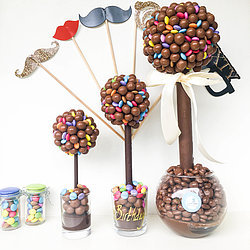 Sweet Trees by Browns, well let us explain - we are a mother and daughter team and the Browns?... well, Browns for chocolate! Browns for simplicity, and Browns for Family - what we have always been about Passion, Family and Chocolate. Giving unique gifts to friends & family, and sharing our passion in our chocolate creations with a touch of Sweet.
It all began because Charlee was getting married, and stuck for ideas of impressive wedding centre pieces, after a lot of doodling and messing around with chocolate (my father trained me as a pastry chef in his kitchens), we came up with some sweeties that look just like trees, but are edible! It took some time, frustration and occasional tears to finally make them look as yummy as today, but it has been worth it. Every time someone opens this unique idea the amazement is always gratifying.
We strive to make every single tree to perfection, and every part is made by hand, so once you munch your way through the sweeties, you still have a Belgian chocolate krispy ball for yet more delectable delicious munching.
This really is our great passion ! - and what better way to work each day than doing something you love .
MALTESERS, M&M's and MINSTRELS are registered trade marks of Mars, Incorporated.Any use of these trade marks by Sweet tree by Browns does not indicate endorsement by Mars, Incorporated. Cadbury Creme eggs, Cadbury and buttons are registered trademarks of Mondelēz International, Inc