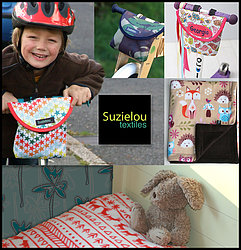 Suzielou textiles is all about creating fun and practical items for children on the go. The brand's founder Suzie Cumming has a background in textiles and is a mum of two energetic boys. Since having the boys she has craved more personal items for them to enjoy, that something a little bit special and unique but practical too. Suzielou textiles was created to fulfill that desire using the great outdoors as inspiration.
It first started with designing a bag for a scooter. The idea was to create a bag that could be fixed to a scooter or bike and that could carry a favourite toy or some nibbles, perfect for a trip to the park or the school run. The bags have proved to be popular and for extra individuality these bags can now be personalised.
The Suzielou textiles range at present consists of scooter/bike bags, blankets and pyjama cases. We are working on designing new products to add to this collection very soon. Alongside our products we have carefully curated a collection of backpacks that compliment the Suzielou range. With the great British weather in mind we have sourced durable fabrics such as canvas and water repellant ripstop and oilcloth. The patterns come in bright colours and designs that will appeal to our little explorers.
The Suzielou textiles brand aims to provide innovative, vibrant and good quality children's products for those wanting something a little bit different on their adventures.