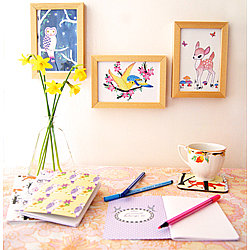 The Superfumi brand is the brainchild of London-based Italian illustrator Claudia Fumagalli. The label was born out of Claudia's desire to transform her hand-drawn illustrations into something she and her friends could wear and use everyday.
The Enchanted Forest is Superfumi's debut collection. It includes The Curious Fox, The Mysterious Owl, The Woodland Fawn, The Magical Unicorn and more. They all began life as original artwork by Claudia and are now lovingly re-imagined as a collection of covetable gift ideas.
The range includes jewellery, coasters, pocket mirrors, notebooks and greetings cards. Each illustration is available in every piece across the range, allowing Superfumi fans to buy matching sets of their favourite designs. Claudia's illustrations are inspired by the world around us, childhood memories and magical stories. That's why every illustration comes with its very own story.
Claudia is currently working on new pretty drawings from her home studio. She hopes her illustrations and trinkets will bring you, or someone close to your heart, lots of joy and happy memories.