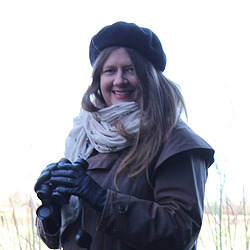 Everything designed and made by Sumptuosity is loving created by me (Ruth) in my workroom based in my home which overlooks the countryside of the Staffordshire/Derbyshire border (it's a wonder I get anything done!). My work is inspired by my love of nature (birds, bugs and botany in particular) and my original background as a historian of design - fashion and textiles my speciality. I am also a lifelong bookworm.
Choosing a Sumptuosity product, you get individualised embroidered art, created personally by me and now we are adding the opportunity for you the customer to apply your own message or name to a bookmark, handbag mirror, lavender bag or badge (if I can get it to fit).
It's your choice: we offer ten colours of silk - a veritable rainbow; if you want a flower design - we offer a meadow-full, from clover to wood violet; do you like ladybirds, butterflies, bumble bees - you choose. In some designs you can even choose the the appliqué material! From experience, we know you love the choice.
Sumptuosity is a team effort, my husband John, does a lot of the preparation of the silks (he also thinks that he is the 'ideas' person of the team - our handbag mirrors are joined to the protective pouch so they'll never become parted was one of his brainwaves).
Every Sumptuosity item is unique and once ordered should be with you in just a couple of days. I look forward to sending you something special.