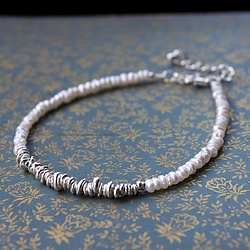 Welcome to Sugar Mango, we create our jewellery with soul creativity and love. We have a passion for gemstones, and use them in contemporary designs aiming to offer beautiful, wearable pieces for any occasion. Inspired by the natural world, we blend colours and textures to recreate our love of flower gardens and textures from the natural landscape.
We love to mix colours and metals for a truly unique look, for our wedding collection we keep it simple with freshwater pearls and delicate features. Our designs come from the shape and colours of the gemstones and pearls that we find in a very organic process of working from the heart.
Owner and jewellery designer, Alison D set up Sugar Mango in 2008 and has no regrets. After a photography expedition to India in 2005 where she discovered a new love for jewellery and gemstones, she wanted to change her career and create her own jewellery business, and thus Sugar Mango was born. Wanting to create a collection unique to those found on the high street, but at the same time was affordable; she designed a collection of jewellery that is accessible to all.
Our fine beaded gemstone jewellery is handmade in the UK using sterling silver or 14 carat gold filled precious metals. Our designs are exclusive, and can only be bought from Sugar Mango.
Our plain silver and gold jewellery is designed in the UK and made with a fusion of sterling silver and 18 carat gold vermeil. Our gold plating has 3 microns of 18 carat gold onto a silver base, so you can be sure of long wear with a high quality finish. We use fine chains that are made in Italy for strength and their anti-tarnish qualities.
We take great care in finishing our jewellery with special details and include a card about the jewellery, wrapping it carefully in our signature pouches or boxes to give you that personal touch.