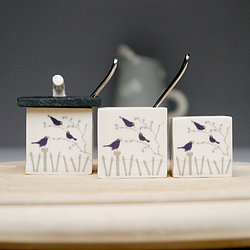 From a shed at the bottom of my garden in Hebden Bridge, West Yorkshire, I design and make contemporary ceramic tableware. Both functional and decorative, I call my pots mustard, chutney, salt and pepper, jewellery, tealight holder etc., but the uses to which they can be put are limited only by the imagination! Or if function isn't your thing....then they can be used for nothing at all!
I have always loved ceramics ever since I studied a City & Guilds course in Ceramic Design, and it was something I was going to focus on when I retired. But ten years ago I had a brush with cancer, so I decided to seize the moment and set up my business as a full time maker designer.
All my products are individually made by hand, firstly rolling porcelain slabs, then cutting and constructing each piece by scoring and adding slip. Once made, I biscuit fire them to 1000° in my shiny top loading kiln, before glazing them with a silky transparent glaze and firing to 1240°. Finally, I decorate each piece using a variety of techniques including metal lustre painting and ceramic printing. All of my illustrations are my own designs, and therefore unique.
My reputation is built on the clean geometric shapes and delicacy of my designs, applied with a subtle palette. My inspiration is drawn from Japanese and Scandinavian influences, with coastal themes and birdlife becoming increasingly central.