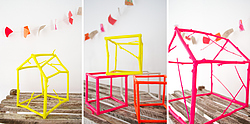 Studiobell is a busy creative studio run by Anita Bell in Devon. Anita Bell comes from a background in design and styling, working in London for folks like Conran, Daylesford Organics, Aram and VisualDNA. Whilst living in Melbourne for a period of seven years she began to create unusual artworks and decorative pieces to be used for display in interior/furniture showrooms and for creative installations for events. These pieces were so well received that we decided it would be a great idea to create a collection of beautiful objects available to buy.
Now Studiobell has come to the UK with a lovely collection of small twig sculptures, decorative garlands and unusual cards. These beautiful objects are very much informed by nature and imbued with a bit of nostalgia for simpler more gentle times gone by.
The twig structures are made from twigs found in hedgerows and woods nearby. Hazel and willow are often used to make these pieces. Apparently folks from times gone by would carry a small twig of hazel in their pockets for luck and protection!
The intention behind these objects is to bring a feeling of cheer and warmth to you and your home.