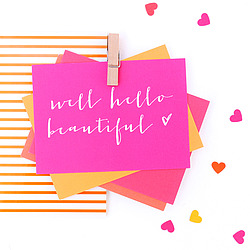 Studio 9 is a small, independent design company which launched in March 2013. Our products are perfectly suited to those looking for high quality, affordable stationery and handmade gifts with a contemporary aesthetic.
The current collection showcases an exclusive range of stylish yet functional stationery and gifts for adults and a small selection of quirky, educational products for children, all of which have been designed and produced in the UK.
We are committed to sourcing high quality, environmentally friendly materials and all of our products are designed and hand-finished at our small studio in Cheshire.
Professionally printed materials are produced by a company who use sustainable sources to run their machinery and recycle waste materials so as to limit their impact on the environment. They are also accredited by the Forest Stewardship Council (FSC), an international organisation which aims to promote environmentally appropriate, socially beneficial, and economically viable management of the world's forests.
Products are packaged using recycled materials and gift-wrapping is available for a small additional charge.
P.S. We are pleased to announce that we were shortlisted for the 'Community Spirit Award' at the NOTHS Make Awards 2014.