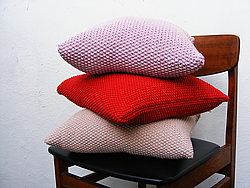 Delivery Time Note : Each cushion is knitted to order. At the moment we are experiencing a high volume of orders and can take up to three weeks of knitting time to complete. Please keep this in mind when purchasing. If you require a shorter turn around time, please let me know.
Thank you and wishing you a happy festive season.
Welcome to our little shop, run by an obsessive knitter (that's me, Tanya).
We like to meld the backgrounds borrowing from my Scandi roots (Strikk means Knit in Norwegian), and going back to my home, South Africa, by using primarily South African yarns.
Knitting for the home is what we like best - updating all the classics in vibrant colours, combinations and modern yarns (read : easy machine wash).
Featured in various publications, including Australian Real Living, Woman & Home, UK Vogue, Ideal Home and even on BBC1 DIY Sos.
Custom orders are our speciality. If you have a design idea or a colour combination that's more at home in your home, please get in touch.
Thank you for stopping by.