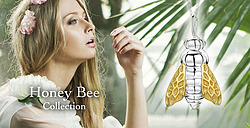 Welcome to Luxe jewellery brand Strange Of London. Designed by emerging designer and jewellery connoisseur Matthew Strange, this fresh and eclectic jewellery range is a delicious fusion of art and design teamed with elements of British nature have been inspired to create this beautiful collection.
Strange of London is dedicated to creating a new and innovative jewellery range that raises awareness of the natural world around us. With inspiration taken from the bright natural sunlight, the heady fragrance of the trees and the refreshing air of the countryside, this exquisitely detailed fine jewellery collection includes key designs each capturing a specific message linked to nature.
Strange of London designs are intricately made with the finest hand-picked 18- carat gold and silver teamed with precious gemstones. These stunning designs are a perfect add on to any chic outfit and are made to be treasured forever. These extra special designs are a hit with Celebrities on the red carpets and combined with the luxurious packaging and jewellery, Strange of London stands out from the crowd and makes this the must-have jewellery brand of choice.