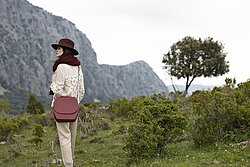 Established in 2013 in Hertfordshire, Stow travel accessories encompass our spirit of Wander-Luxe.
From London to Los Angeles, Melbourne to Mumbai and Beijing to Beirut, Stow's collection of practical storage solutions is coveted by people with travel in their souls and adventure in their bones.
Designed in England and handcrafted in Spain each piece is created for the needs of the modern traveller.
By pushing boundaries of quality and care Stow aims to ensure today's valuables and tech essentials are stowed securely with chic elegance wherever and however you or your loved one wander.
Influenced by the heritage shapes of traditional travel luggage and inspired by the rousing tales of courage and endeavour of famous explorers, our colours reflect the bold and intrepid aproach of fearless characters.
And with a passion for personalisation expertise, Stow is a haven when searching for a memorable special gift.
Stow will create a sense of emotional familiarity for the moments of nostalgia felt by your loved ones away from home, through laser messages and bespoke monogramming.