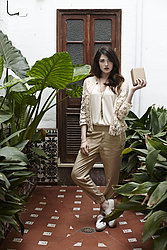 Stow's travel accessories encompass our spirit of Wander-Luxe and offers a collection of practical storage solutions coveted by people with travel in their souls and adventure in their bones.
Stow was established in 2013 by Carol Lovell, an ex travel industry professional and mother of 2 young children. She launched the brand from a spare room in her home and now operates from a light industrial unit on a business park employing 4 people and a team of freelance professionals.
Carol designs the collection and has always partnered with the same small, family owned factory in Spain where the pieces are handcrafted by the renowned artisans of the leading luxury leather manufacturing town of Ubrique, Andalucia.
By abiding by our core brand values of quality and care we aim to ensure today's valuables and tech essentials are stowed securely with chic elegance wherever and however you or your loved one wander.
Influenced by the heritage shapes of traditional travel luggage and inspired by the rousing tales of courage and endeavour of famous explorers, our colours reflect the bold and intrepid aproach of fearless characters.
And with a passion for personalisation expertise, Stow is a haven when searching for a memorable special gift.