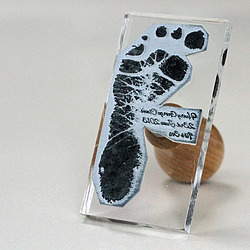 Welcome to StompStamps, the first company to offer stamps with customer provided miniturised footprints, handprints and paw prints.
Newly launched by a mum who knew there must be an easier way than persuading her adorable toddler stomper to stamp her feet and later hands as a signature on cards and invitations. Inspired by the past, the traditional art of stamping offered a solution and so much more possibility.
StompStamps was created as a fuss free and beautiful way to personalise cards, and as a signature for babies who could not yet write. The stamps are also a lovely keepsake of a moment in time told by your child's foot or hand. They are also a unique item for pets who are part of the family, and want their paw prints added to your household cards and stationery.
The range has expanded to include new stamps from cookie stamp kits to bespoke monograms. Our products are designed so that you can personalise those incredible milestones of life. Your way. Put your own stamp on it. From a new baby thank you card made with baby's very own footprint or wedding invitations with our classic monogram stamp or a kit so you can write any message on a cookie and send as an edible card -ourproducts will make sure your milestones of life reflect the wonderful detail that is you! Put your own stamp on it and have fun creating your own unique accessories and stationery that will leave everyone wondering just how you managed to get it so unique to you and did it yourself!
Our range make great thoughtful gifts that are perfect for special occasions when timing, thoughtfulness and getting something just a little bit different.