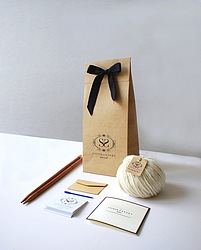 We are an online knitting brand with DIY knitting kits aimed at inspiring more people to learn to knit. Our mission is to make an age-old craft contemporary.
By introducing easy-to-follow patterns and an online knitting circle via our social fan pages where our knitters can post hints, tips and/or show off their knitted pieces, we prove that knitting is no longer done in solitary or thought of as being old-fashioned.
Our mantra 'knit to tell' emphasises on the richness of stories behind handmade products. We believe the best things in life are made by hands and our knit kits help ensure consumers make the connection between the stress-free experience of knitting and the creation of an authentic, value-added product – one that isn't embarrassing to wear or show-off!