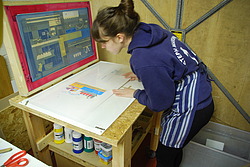 Steph Marshall is a freelance illustrator and printmaker based just outside London. She discovered screen printing in 2012 as a student at University and has been hooked ever since! Steph has a particular interest in maps, and much of her work follows the theme of travel; whether it be a response to somewhere visited or somewhere she aspires to see.
Steph works with bright, bold colours, aiming to keep her work lighthearted and playful, making it perfect for display on a wall at home. All of Steph's prints are lovingly handmade on her home made printing press in her garage at home. Her range of original and digital prints in a variety of sizes make the perfect gift for any travel lover.
As a freelance illustrator Steph has produced work for international clients including SNAM and Nurant magazine.
Steph is also able to produce custom designed products for that extra special gift. If you'd like to get in touch, then please get in contact via the 'ask seller a question' button on any product page.